Sparkling Ultrasound…
After Auvergne, it is in Reims that Dynamecho sets down its suitcases. Reims, whose worldwide reputation for champagne is well established, is a place filled with rich heritage. It is therefore almost natural that this site has been awarded twice by UNESCO. The College of High Studies in Medicine (CHEM) has therefore decided to organize in this beautiful side of France an introduction to musculoskeletal ultrasound in general medicine.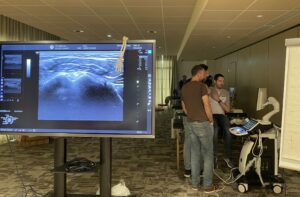 Once again it was a moment of sharing filled with good times around practical workshops with dynamic involved participants.
When the day is over, it's time for me to come back home and already prepare the next workshop which will take place in Lorient. More information about the CHEM Training courses: https://www.chem-sante.fr
Thanks to GE Healthcare for the logistical support and to the entire CHEM team whose efficiency and organization allow us to do our job as a trainer without worrying about anything.