Practical ultrasound workshop in general medicine ULg
At the Faculty of Medicine in Liège, nothing is taken lightly. The green light for continuing education is provided only if you have your Covid safe ticket (CST) AND carry out a self-test before participating to the course.
It was 30 minutes of stress for each of the participants and also for the trainers because although we are vaccinated none of us are safe from contracting this damn virus.
Everyone therefore took part in a self-test with the kits provided by the organizers in a friendly atmosphere. We calmly and carefully watched the progress of the sample drop, revealing the final verdict.
After a while, which seemed infinitely long to us, the verdict was in. Our 30 participants and the 4 trainers were able to release the tension.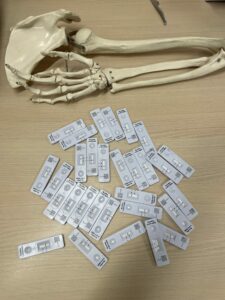 All negative! This gives a positive boost letting faces appear relieved to be able to start the ultrasound introduction day in general medicine.
The individual endorphin level worked like a spell on the whole group, setting up an extraordinary mood throughout the day.
A day in which the notion of time appears distorted and the hours seem to be only a few quick minutes. Yet it is already time to say goodbye.
The results of this wonderful day are unequivocal, participants happy to have learned some basic concepts in ultrasound and enthusiastic trainers to have been able to demonstrate the value of the tool as an extension of the clinic in general medicine.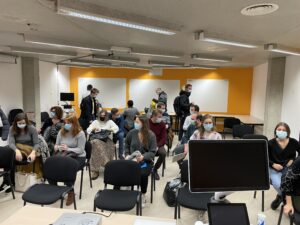 Thank you to Dr Virginie Dumont for the flawless organization and his perpetual benevolence, to Dr Mélanie Roufosse for his good humor and his mastery of the urogynecological part and finally to Dr Simon Van Hauwermeiren at the controls of the simulator and of which only he knows the list of 347 clinical cases.
Thank you also to the logistical support from our friends from Samsung, who despite these difficult times of pandemic and mobility restriction are redoubling their efforts to accompany us during these training days dedicated to general medicine.   

Finally and given that this was the last training of the year at the Faculty of Medicine in Liège, it seems to me appropriate to send you all my best wishes and wish you all the best for 2022