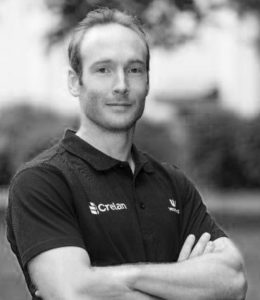 Gregory Vervloet
MSc Physiotherapy.
Specialised in Manual therapy – sports injuries rehabilitation – Dry-needling – MSK Ultrasonography
Official physiotherapist of the inter-federal  Belgian Olympic committee (COIB)  -The Association of Athletics Belgian Federation – The Royal club Athletic Excelsior – The Ganshoren Football club – The Royal Daring Hockey Club.
Gregory has worked for the  White Star football club, Black star football club, Kituro rugby club and the LRBR (Belgian Royal Rugby League).
Lecturer in musculoskeletal ultrasound and echodissection for the clinical tests part Grégory likes to share his passion and it is a pleasure to teach and learn with him.
Head of a center specialised in modern rehabilitation protocols and rehabilitation of sports elites athletes. C2rk