Introduction to ultrasound for general and hospital medicine (Echofirst)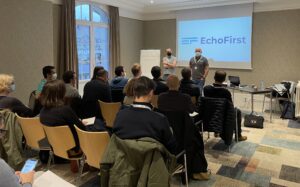 3 days of intensive workshops on essential ultrasound scanning for general medical practitioner with of course a part dedicated to the musculoskeletal. Through its dynamism, the entire Echofirst team has created an intense working atmosphere where it is good to learn in a good mood and conviviality.
The must is when the day's session ends at 6.30 p.m. and there are still participants practicing until 8 p.m. and coming back the next day a little earlier to repeat the previous day's practices.
It seems that the passion of the team was transmitted by the ultrasound waves and that all the participants were surfing on it. On Saturday at the end of the day, the smiles on the faces showed the expression of a certain satisfaction which was directly translated by many thanks and left no room for the fatigue of these 3 intensive learning days. On the trainers' side, there was the joy of having been able to transmit techniques directly applicable in the practice and the satisfaction that from Monday onwards the patients of these new initiates will be able to benefit from them. 
Thank you all for your participation, to the entire Echofirst team, not to mention the Samsung firms – GE-Healtcare and Twin Medical for their logistical support and the presence of their respective professionals.